Willie Randolph walks up to an unlit house reading a piece of paper. He knocks on the door.
Willie Randolph:
Hello? Umm...I got a letter that said I should come here? Is- is anyone there?
Willie slowly opens the door and the lights go on.
Everyone:
SURPRISE!!!
Willie:
"Surprise?" But it's not my birthday.
Bill Buckner walks forward.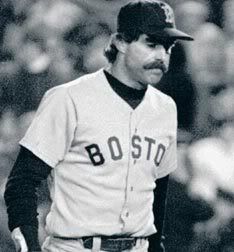 Bill Buckner:
See, guys, I told you "surprise" was stupid. Hey, Willie. Remember me? It's Bill Buckner. And I'm still alive!
Willie:
Hey, Bill. 'Course I remember. But what- what is all this?
An old man holding his goat dives out in between Bill and Willie.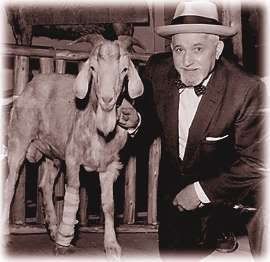 Old Man:
IT'S THE REVENGE CLUB! YA IN ER AIN'T YE?!
Goat:
Whoa, hey. Slow down, Old Man. Give him a chance, huh?
Bill:
Willie, he's right. This is a Revenge Club. Everyone here has been wronged by someone or something and we have vowed that we would take our revenge. And we tortured souls rely on each other to make sure our revenge is complete. No matter what it takes. No matter how long it takes.
Goat:
But we don't do curses.
Bill:
Oh, that's right. We don't do curses.
Goat:
Old Man was gonna make a sign, you know, for your first night. "Revenge Club: We Don't Do Curses." But, uh, he got fuckin' piss-drunk out of his mind again and, uh, well, Willie, I'd just like to say welcome.
Old Man:
SHUT UP, GOAT, BEFORE I SHOVE MY HICKORY STICK UP YOUR SMELLY GOAT ASS!
Goat:
Ahh that's right. Again with the hickory stick. We get it, Old Man.
Willie:
I'm sorry, Bill. Who exactly is this Old Man and his Goat?
Bill:
Well in 1945-
Old Man:
IN 1945 WE GOT
KICKED OUT OF WRIGLEY FIELD DURING GAME 4 OF THE WORLD SERIES
. I brought ol' Goat here fer good luck. "We got yer Goat" I told Detroit. They didn't seem to appreciate the joke.
Goat:
I tried telling him it was a terrible joke.
Old Man bludgeons Goat over the head with his hickory stick.
Old Man:
When'and the rain came, the Cubs owner forced me and mah goat out of the stadium. They said we stunk! Since that day I've vowed that the Cubs and their stinkin' fans won't never see another championship ag'in.
Willie:
...Could that possibly be true?
Old Man:
YOU CALLIN' ME A LIAR, BOY?!? YOU THINK I'M SOME URBAN LEGEND?! YOU MUST BE READIN' THAT WIKIPEDIA TOO!
Goat:
Easy, Old Man, Easy.
Willie:
Fine, I believe you. Jeez. So how do you guys get revenge?
Old Man:
Every year if they get close, I make'n sure they don't get
too
close. Heh heh.
Goat:
Yeah 'cause we fuckin' rig the games!
Old Man:
Shut up, GOAT!
Willie:
Oh my god. Did you cause them to lose in 2003?
Old Man:
Heh heh. Some of my best work. Ya see, I kidnapped that Steve boy about a month before the playoffs. I had him in my basement tied up right next to the goat, listening to hypnotic mind-control tapes for 24 hours a day! Then when Game 6 came and them Cubs was gittin' too close, I unleashed my Bartman zombie into the game, and planted him real close to the field. He had those tapes playin' his headphones, makin' him listen to mah every word. And when the time was right-
BAM!
Willie:
Oh my god!!!
Bill:
Just like Naked Gun!!
Old Man:
NO FOUL BALL FOR YOU MR. ALOU! HAHAHAHA, GAME OVER! CUBS LOSE!!!!!
Willie:
That's amazing! You made Steve Bartman interfere with that foul ball through hypnosis?!
Goat:
Nah, man, we just paid Alex Gonzalez to tank that ground ball. Mark Prior too. It barely cost anything, man. I almost felt bad doin' it.
Old Man kicks Goat in the ribs.
Old Man:
SHUT UP, GOAT! YOU KNOW IT WAS THE BARTMAN ZOMBIE!!
Goat:
Fackin SHIT. Ahh, god damn. Okay, okay, fine you're right. It was your zombie with the cassette tapes or whatever.
Willie:
What was your revenge Bill?
Bill lowers his head and casts a devilish smile.
Bill:
I'm glad you asked, Willie. As you may know, I had this tiny little
error
in Game 6 of the 1986 World Series. Some people seem to think I cost Boston the World Series and that I perpetuated some kind of curse. For about the next 18 years after that, I got my house egged every weekend. I'm not sure if it was related to the error, but just to be safe, I joined the Revenge Club.
Willie:
Oh god, Bill, I remember. I'm so sorry you had to go through that. It's just that I was with these guys, and they were like, "Hey we have these eggs." And I was like "But I really like Bill." But they were like, "Well, are you cool or aren't you?" And they were my ride home so..
Bill:
It's fine, Willie. It's fine. Because I exacted my revenge in most spectacular fashion. Muahahaha.
Willie:
What did you do?
Bill:
I'll tell you Willie, but you are sworn to secrecy. I saved up every penny I had, and I paid
Mariano Rivera to take a dive
and blow the 2004 ALCS! Then the Red Sox rolled over the Cardinals with ease and they were champions for the first time since 1918!
Willie:
But, um, where is the revenge?
Bill:
Don't you see?! By making the Red Sox win I convinced everyone that there is no curse! They wouldn't be mad at me anymore for blowing the '86 Series because they finally won one! Hahaha! Revenge is mine! How sweet it is!
Willie:
How exactly does-
Goat:
Don't even try, Willie. We've all told him. That plan doesn't make any fucking sense.
Bill:
Hey! Shut up, Goat! I didn't criticize your creepy hey-let's-kidnap-a-kid-and-make-him-a-zombie-who-catches-a-routine-foul-ball-alou-will-have-no-shot-at-anyway plan!
Goat:
Fuck me. For the hundreth time that was just the Old Man's Jim Beam talking!
Bill taps Willie on the side of his arm over his windbreaker.
Bill:
Cmon, Willie. It's a good plan, right? Pretty cool, right??
Willie:
Yeahhh, Bill. Cooool. You got 'em good.
Bill:
Thanks, pal. So now you know what we are capable of Willie. And that's why we sent you that letter to meet us here. We want you to join our club.
Willie:
But why me?
Bill:
We saw what happened to you this season. The way they
fired you in the middle of the season
? On a road trip? Via email? That's just awful.
Willie:
Yeah that was pretty rough.
Old Man:
YER GOD DAMN RIGHT IT WAS ROUGH! THOSE SONS A BITCHES-
Bill:
Alright, Old Man. We got it.
Willie rubs the back of his own neck.
Willie:
Well. I. I dunno...
A baby comes up and yanks on Willie's pant leg.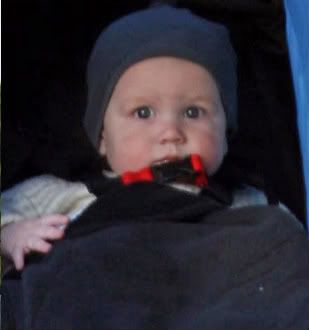 John Moynahan:
Are you fuckin' in or not.
Willie:
Good god! That baby can talk!
Goat:
Really? The talking baby shocks you?
Willie:
Who are you?
John:
I'm Tom Brady's son. I joined this club 8 months ago. And I'm serious as a fucking heart attack about exacting revenge against my dad.
Willie:
Against your own father? But why?
John:
Because that motherfucker
left Mommy
for some tarted-up glassy-eyed Brazilian slut who isn't even that hot.
Everyone:
Whoa, whoa, whoa!
John:
Okay, look. I'm not saying she's
not
hot. I'm just saying, not my type.
Goat:
Gorgeous Brazilian models with
perfect bodies
aren't your type?
Old Man:
THAT BITCH IS A DIME!!!
John:
Fine, she's really hot, alright? I know that. That's obvious. I'm just saying. Overrated, okay?
Bill:
I can live with that.
John:
My dad just up and left us for some piece of ass. So now, I plan on making him feel the pain that I feel every day. That's why before the Super Bowl I paid the Patriots offensive line to
dog their blocking assignments
. That's why I paid
Peyton Manning to wear Eli's uniform
for the Giants. And that's why I paid Bernard Pollard to
destroy Dad's knee.
Goat:
That's a lot of money to be paying out.
John:
Well, that's the one nice thing about being Tom Brady's kid. So.
William
. I ask you again. You in?
Willie:
Gee it's just that-
Old Man:
JUST FUCKIN' JOIN OUR CREW OR I'LL SHOVE MY HICKORY STI-
Willie:
Alright, alright, with the hickory stick. Boys. I will join the Revenge Club. I'm in!
Bill shakes Willie's hand heartily.
Bill:
That's great, Willie! Welcome. Now let's get down to business. We've got a lot of work to do if we're gonna screw those Mets and keep them out of the playoffs!
Willie:
What?
Old Man:
Tonight we gon' beat those Mets like a red-headed step-goat!
Willie:
Are you guys serious? That wasn't you?
Bill:
What wasn't?
Willie:
You guys didn't pay Schoeneweis to give up that homerun? You didn't have the Marlins steal the signs for Helms? The guy has 68 career homeruns in 9 seasons!
Bill kicks at the carpet beneath him with his hands in his pockets.
Bill:
Shoot. We thought the game was tonight.
Goat:
I tried telling them, Willie. It's no use once they get an idea in 'em. It's like working with a bunch of animals.
Willie:
Wow. So...they did it all themselves.
Bill:
Damn they really fucked up!
Goat:
Yeah, Bill. Someone should really egg their houses.
John:
I guess the Mets really just suck.
Old Man bursts into the middle of the group.
Old Man:
HOLD ON! WAIT. HOLD! ON! YOU TELLIN' ME THE PLAYOFFS ALREADY DONE STARTED??
Goat:
Yes, Old Man.
Old Man scrambles out of the house.
Old Man:
AW FER FUCK'S SAKE! I GOTTA GET MAH BARTMAN ZOMBIE! STEVIE BOY, I'MA COMIN'!